Who is a Data Analyst
Data Analyst Job Description
A Data Analyst, by definition is a person who collects and evaluates data on sales numbers, market research, logistics, and other such behaviors. They, essentially bring technical expertise into the organisation to ensure quality and accuracy of that data. They then process it, design it, and present it in ways to help people and businesses make better decisions.
Data Analytical jobs, by description, include gathering and cleaning data in order to uncover trends and business insights. However, a day-to-day job of a data analyst tends to vary depending upon various factors. This can be the industry, the company or the specialty of data analytics considered. Most often, data analysts coordinate with IT teams, management and data scientists in order to determine their organisational goals.
Data analysts are responsible for various tasks and duties; right from creating dashboards and programming to designing databases and utilising intelligent software, they play a vital role in different departments throughout their organisation. Most often, they pinpoint important trends, correlations as well as patterns in complex data sets to identify new opportunities for improvement.
Read more on What is Data Science?
How to become a Data Analyst?
Considering data science to be a vast domain, it is essential for an analyst to have a versatile skill set in their profile.There are several paths to become a Data Analyst, however, in general, a set of specific skills and tools can aid well in the process.
Skills Required to become a Data Analyst
Programming Languages (R/SAS): It is essential that data analysts are proficient in at least one language and have good knowledge in the working of a few more. Programming languages such as R or SAS are used by data analysts to gather clean data for statistical analysis, and data visualization.
Creative and Analytical Thinking: Creative and analytical thinking are key attributes of a good data analyst. While it is vital to have a strong background in statistical methods, it is also extremely important to be able to think critically through problems with a creative and analytical lens.
Effective Communication: Communication skills always prove to be an advantage — whether it is for an audience or a team of executives making business decisions.
Data Visualization: While effective data visualization takes trial and error, to be successful as a data analyst, it is important to understand how to visualise data for best outcomes.
SQL Databases: SQL databases are essentially a set of relational databases with structured data. Here, data is stored in tables and an analyst will pull information from different tables in order to perform analysis.
Database Querying Languages: A popular querying language used by data analysts is SQL. There are variations of this language that exist, it includes PostreSQL, T-SQL, PL/SQL (Procedural Language/SQL) from many others.
Data Mining, Cleaning and Munging: When data has not been neatly stored in a database, data analysts use other tools in order to gather unstructured data.
Advanced Microsoft Excel: Having a good handle on excel and advanced analytics techniques will only prove to be helpful for a successful Data analyst.
Machine Learning: Although it is not a specific demand, Data analysts with machine learning skills are considered to be incredibly valuable.
Also read Critical Skill Sets that makes a Data Scientist.
Important Tools used by Data Analysts
Google Analytics (GA): GA is an essential tool that helps analysts in gaining an understanding of customer data and trends that need improvement on landing pages or calls to action (CTAs).

Tableau: Tableau is highly used by analysts to aggregate and analyze data. It allows them to create and share dashboards with different team members.

Jupyter Notebook system: Jupyter notebooks simplify the work of data analysts when it comes to testing code. Usually, non-technical people prefer the simple design of jupyter notebooks due to its easy interface and features.

Github: Github is a platform to share and build technical projects. It is a must for any data analysts to work with this tool, especially for object-oriented programming.

>AWS S3: AWS S3 is a cloud storage system that stores and retrieves large datasets.
Types of Data Analytics
Breaking down data analytics, it revolves around answering questions and making decisions. Just like there are different types of questions, there also exists different types of data analytics. While there is no specific set-in-stone glossary of these types of data analytics, ScienceSoft breaks it down into four primary areas:
Descriptive analytics answers – What happened?
Diagnostic analytics answers – Why did something happen?
Predictive analytics answers – What is likely to happen?
Prescriptive analytics answers – What action should be taken?
Based on what an analyst is trying to accomplish, they can tailor their work to fit into the scenario.
A Day in the Life of a Data Analyst
The day-to-day functions tend to differ at various levels, based on the role, title or industry, However, a generic day of a data analyst involves:
Checking emails and maintaining dashboards.
Demonstrating and deep driving technical expertise in solving real world retail problems.
Collaborating with team members both within and outside the data science team to create and deliver quality output.
Acting as an SME on the floor to help in building data science capabilities
Preparation of monthly, weekly or bi-weekly plans by prioritising requests from managers, partners and clients.
Translating data into actionable insights.
Creating reports of unique trends or patterns.
Identifying areas of opportunity to automate and scale ad-hoc analyses.
Also read Step-by-Step Guide to Becoming a Data Scientist.
Data Analysts vs. Data Scientists
Another prominent role in the field of Data Sciences is that of a Data Scientist. While it is safe to say that there exists a certain overlap between the two, there are significant differences between data analysts and data scientists. Based on skills and job duties, here are a few major differences between them:
Data Analysts
Have moderate mathematical, statistical and coding skills
Have a strong business acumen
Create visualisations and analysations data
Utilise business intelligence to achieve their goals
Data Scientists
Have extremely strong mathematical, statistical and coding skills
Help in identification of trends with machine learning
Make predictions based on data trends
Write codes for the assistance of data analysis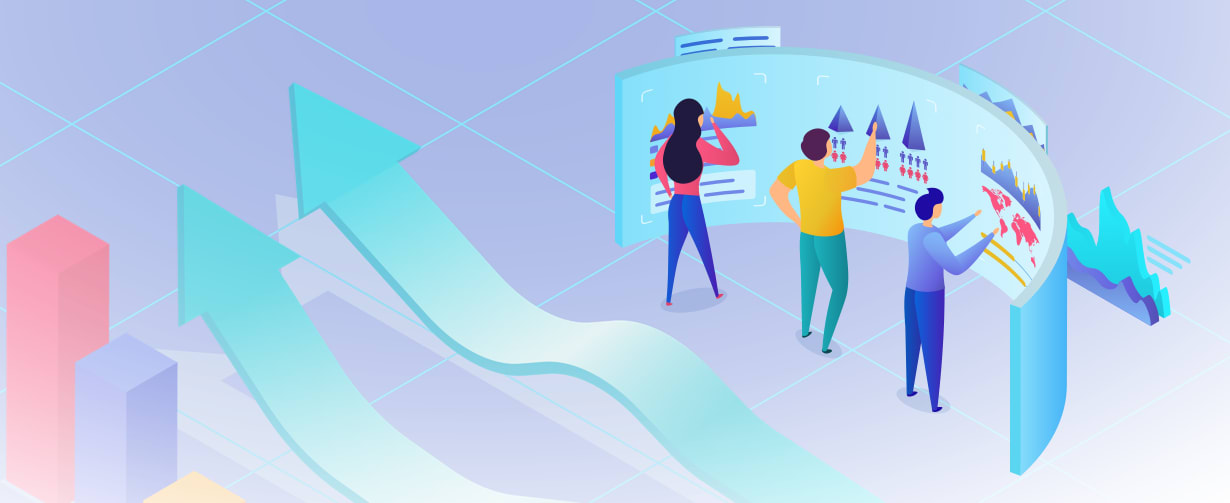 The roles of both data analysts and scientists are very closely integrated with each other, however, their strengths and responsibilities tend to change depending on the organisation.
Read more on Differences Between A Business Analyst and a Data Scientist
Data Analyst Salary Trends
Before applying to jobs, the most commonly looked at factor is the salaries associated with it. Salaries in this field tend to vary based on roles, skills, locations, and numerous other characteristics.
Here are some points to note for Data Analyst/Scientist job trends in India:
India contributes to 6% of job openings worldwide, in this field.
The total number of data science and analytics jobs in India is equivalent to 97,000.
97% of the jobs are on a full time basis and 3% of them are on part-time basis.
There has been an increase of 45% of the total jobs in this sphere since 2018.
According to PayScale.com the yearly average salary of a data analyst or a data scientist between the years of 2019 and 2020, in India is Rs. 818,099. According to further statistics, their average bonus is a total of Rs. 100,473 and their average profit sharing is Rs 36,667. 
Wish to learn how your current salary compares to your peers? Check out our Salary Builder and gain powerful insights that will help plan your career success!
Salaries Based on Roles
Entry Level Salary in Data Analyst
An average entry Level Data Analyst/Scientist in India can make around Rs 507,269 annually. This essentially includes starters with little background and skill. However, by continuously evolving with the progression of job, their salary graph has an upward scale.
Junior Level Salary in Data Analysts/Scientists
Junior Data Analysts/Scientists with an experience of at least 2 years in the field earns an average salary of Rs 9,21,957 annually.
Senior Level Salary in Data Analyst/Scientist
A Senior Data Analyst/Scientist with considerable amount of experience earns an average salary of Rs. 18,21,795 in India.

Salaries Based on Industry
The industry of employment plays an essential role in impacting the salaries of Data analysts and scientists. Here is a table that portrays the kind of salaries earned by Data analysts and scientists in different industries.
| | |
| --- | --- |
| Industry | Annual Salary in Rs. |
| Consumer Goods | 1.3 M |
| Finance | 1.2 M |
| Energy and Mining | 1.2 M |
| Media and Communications | 1 M |
| Corporate Services | 1 M |
If you are someone looking to get into this field, with the current salary trends and demand for the subject, now would be the right time to up-skill and take advantage of the Data Science career opportunities that exist today. Explore a career in Data Science with our PGP – Data Science and Business Analytics course today!
3